Where would your business be today without a website, email or mobile phone? Social media is growing in the same way as these communication methods did. Not everyone gets why they need it, but eventually everyone will. The sooner you adapt the sooner you'll start to see the results.

The Panacea Social Stream is a subscription-based service that will provide your firm with improved knowledge about social media, strategy, and timely, relevant, compliance-approved content. It has been designed to trigger a response from existing clients, increase website visits and generate growth.

Why use the Panacea Social Stream?

Financial advisers that create content for social media successfully have created better client relationships and more sales opportunities.

Social media is generally not embarked upon for the following reasons:
It's too complicated - I don't understand social media
I don't know where to start
I have Compliance constraints
I don't have the time
I don't know what to write
I don't have anyone to help me with this

The Panacea Social stream can overcome all of these objections, by providing training, education, strategy and content to enable YOU to actively engage with clients and potential clients with a regular communication stream, consistent updates and relevant news.

Read more about the Social Strategy element of the Panacea Social Stream
Read more about the Social Content element of the Panacea Social Stream and take advantage of one month of Social Media Content for FREE while the offer lasts.
View our video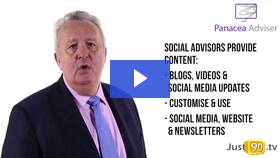 Read the latest case studies here: